Is your Android Connected to WiFi but the Internet connection isn't working?. Then, no need to worry about it. You can fix this problem by yourself. Connected, no internet, Android problem can occur due to multiple causes. But mainly, incorrect network settings and faulty WiFi router are the main cause. As I mentioned, there isn't any single reason behind this issue. That's why you need to go through multiple solutions.
Note: This article is completely dedicated to Android WiFi connectivity problem. If you're facing a similar problem in your Computer. Then, read my article on "WiFi connected but no internet access".
Fix – WiFi Connected, no Internet, Android.
Check LED indicator in modem and router.
Whenever, my smartphone shows "Connected, no Internet". The first thing I check is the WiFi modem and router. Because the WiFi modem comes with a few LED indicator. That helps me to find out the real problem. Almost every WiFi modem comes with four LED indicator.
Power – Clearly it indicates that the modem is connected to power source.
DSL – This LED indicator is for the internet line. Which your ISP (Internet Service Provider) provided you.
IMPORTANT – After starting the modem, DSL LED takes a few minutes to get stable. And, DSL LED indicator always should stay stable to get Internet work. If it's blinking continually, then the problem is with the Internet line. In this case, you should call your ISP.
Internet – This LED indicator only blinks, when you use the Internet in your devices.
PC/USB or Ethernet – This is the fourth LED indicator. And, that's also important. It's for the Ethernet cable. If you have connected non-wireless modem with the router. Then, you should check this LED light. Or, if you're using a wireless modem. Then, this light indicates that Ethernet is connected to a PC or not.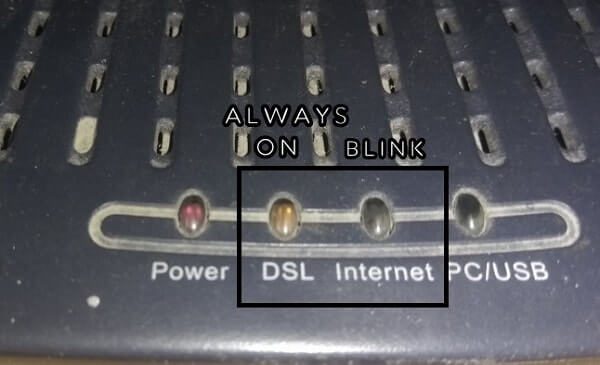 So, overall, DSL light and PC/USB/Ethernet LED indicator is responsible for the Internet. So, if any LED indicator isn't working properly as mentioned above. Then, you need to check cables are connected properly or not.
Restart Modem and Router.
If DSL and Ethernet LED indicator is stable. And, still, the Internet is not working in your Android or iPhone. Then, you need to restart WiFi modem and router. There are two ways to restart a modem/router. Either, you can use the power key available behind the modem and router. Or, you can directory turn off switch, in which power adaptor is connected. We will use the first method.
1. Press power key to turn off Modem and Router.
2. Now, wait for at least a minute before turning back on.
3. After a minute, start router and modem by pressing the power key.
Now, wait until DSL LED indicator gets stable. After a minute, when the DSL light gets stable, your Internet will start working. And, now your Android phone will show connected. Instead of "Connected, no Internet" message.
Reconnect WiFi Network.
Is that WiFi connection is working on other smartphones?. Then, the problem isn't with the router and modem. It's with your smartphone. In that case, you can use forget option. This option will delete all cache details on that WiFi network, like WiFi password.
Open the Wi-Fi settings. (Hold WiFi icon for few seconds. Or, you can use settings App to open.)
Tap on your connected WiFi network.
Now, you will get an option to "forget". Tap on it.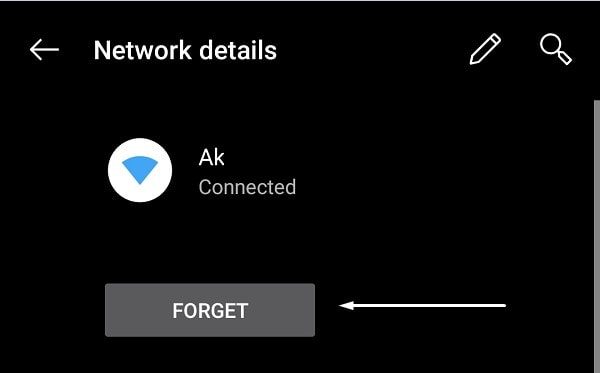 That's it. Now, turn WiFi off and then turn it on. After that, connect your WiFi network by entering the password.
Disable and Enable WiFi Network.
Like Windows Computer, In Android also you can disable and enable WiFi network. In Windows, from network connections window you can do it. But, In Android, these settings are hidden. And, with the help of a secret code only, you can access these settings.
1. Open phone dialer App, type this code.
*#*#4636#*#*
2. Now, Android will automatically open the testing page.
3. Tap on Wi-Fi information > WiFi API.

4. After that tap on the disable Network option.
To disable network now you need to enter network ID. The network ID is basically SSID. (Name of your WiFi connection.)
5. Enter network ID and then click on OK.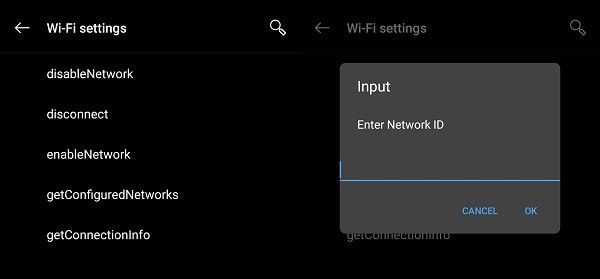 6. Now, tap on enable network option and then enter SSID again. And, then click on ok.
That's it. Now, hopefully, Connected, no Internet, Android problem will get solved.
Check date & time.
In Windows, Internet doesn't work if date and time are incorrect. The same thing applies to the Android device. Although, Android devices come with the automatic date and time feature. But, if you have manually set date and time. Then, you need to enable "Automatic date & time" feature.
Reset WiFi Settings.
This solution works when the internet doesn't work properly. And, If you don't want to factory reset your smartphone. Then, you can try this solution. Reset network settings option will only reset Wi-Fi, mobile and Bluetooth settings.
1. Go to "backup and reset" settings of your smartphone.
2. Tap on "Reset Wi-Fi, mobile & Bluetooth/ Network Settings Reset" option.
3. On the next screen tap on "reset settings" option.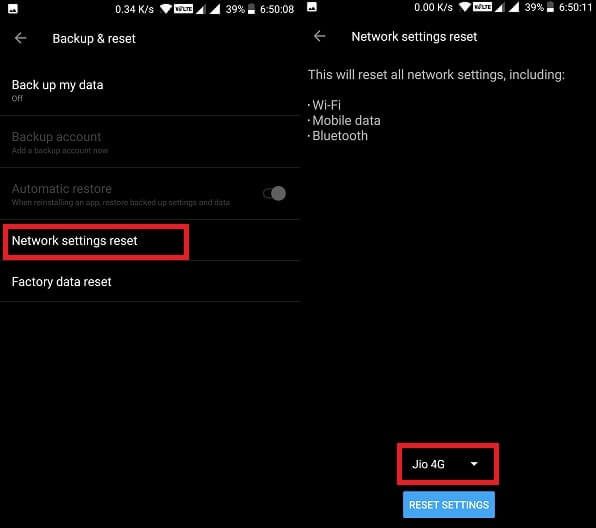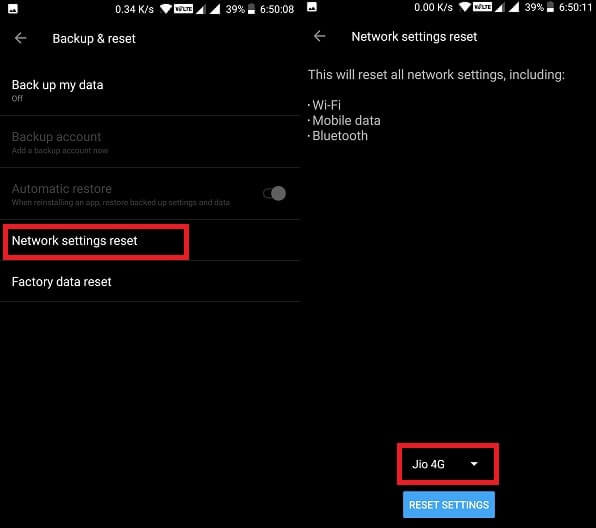 That's it. Now hopefully your WiFi connection will start working again.
(If you're unable to find out this setting. Then, open settings app and search for it.)
Use Google DNS.
Though, if your Android device is showing "connected, no internet" in Wi-Fi. Then, this solution will not able to fix it. But, if your smartphone is connected to WiFi and the Internet not working. Means you're not able to open some site and Apps. Then, this solution might be helpful to you. Some smartphone allows to manually change DNS server. But, I suggest you download DNS Changer App. This App will allow you to change DNS settings by just tapping on 'start' option.
Install DNS Changer App from play store.
Select Google DNS from 'choose a DNS provider' section.
Tap on "Start". That's it.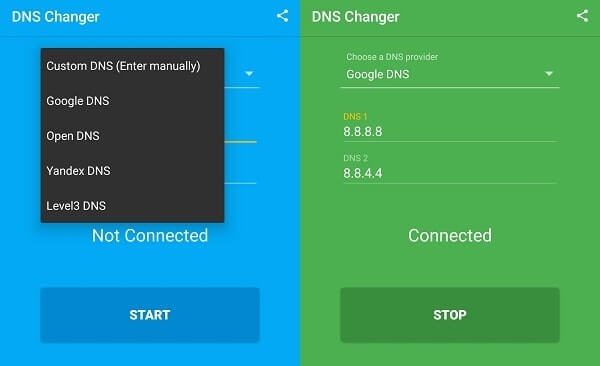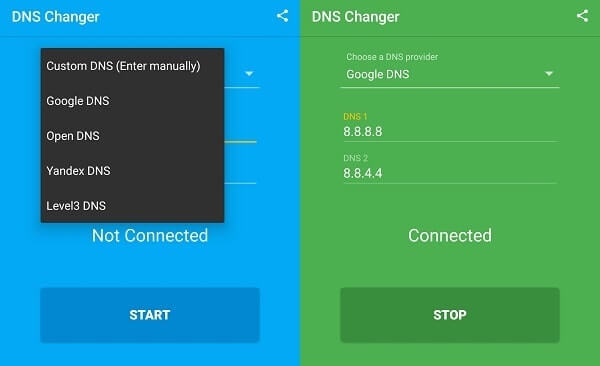 Now, try to open the App and site. Which was causing trouble. Alternatively, you can use any VPN App.
Factory Reset Smartphone.
Personally, I don't suggest this solution. Because it's not actually worth it. But, if none of the above solutions is working. And, Wi-Fi is working on other smartphones. Then only you can reset your smartphone. To fix, WiFi Connected, no Internet, Android.
Warning – The resetting phone takes time. And it will remove all your Apps and contacts. So, make sure you have created a backup.
Go to backup & reset option.
Tap on Factory reset option.
Turn off "erase internal storage" option.
After that tap on "reset phone.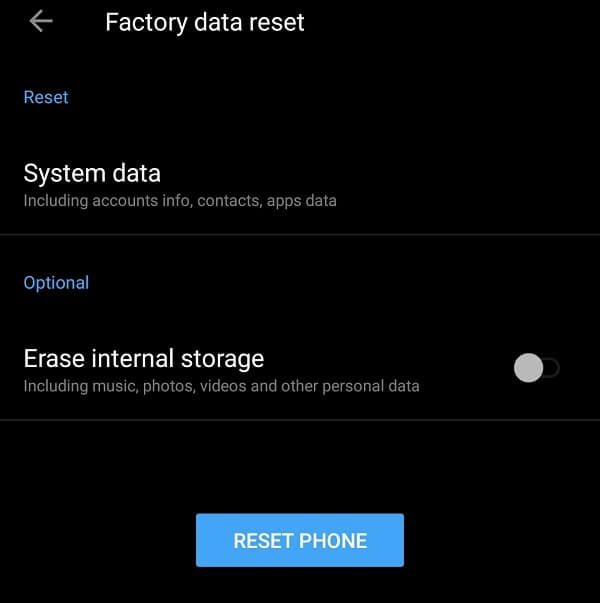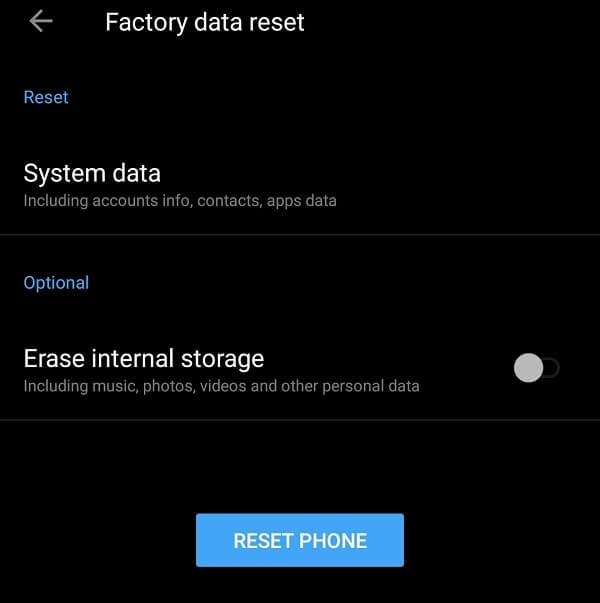 Try some WiFi fix Apps. – Well, I don't think you need an App. After trying out these solutions. But, still, you can try if you want. Just search for "WiFi fix" on play store. And, try some Apps. You can use your data connection to download these Apps.
Summing – up. – Conclusion.
So, these were the solutions to fix "WiFi connected but no internet android". First, you need to find out the problem is with your smartphone. Or, every connected smartphone is facing the same error. If Wi-Fi isn't working in every connected smartphone. Then, try first two router and modem related solutions. But, if the internet is working on all other smartphones except yours. Then, try all other remaining solutions.