Download Instagram Photos – After Facebook, Instagram is the best Photo and Video sharing website. Daily millions of users share photos, videos, and Instagram stories. Recently Instagram App introduced save Instagram photos and Videos option. But actually this option allows to bookmark photos and videos, you can't save images to the gallery (internal or external storage).
Just because there isn't any official option to download Instagram photos. It doesn't mean you can't download on your device storage. Yes, you can take a screenshot of photo and later crop it, but you'll not get a picture in full resolution. There are some ways that allow downloading photos from Instagram in full resolution. Here am going to tell all possible ways to download, you can follow any of method.
Note: Instagram doesn't provide download option, to protect user privacy. If you're downloading a photo to repost or intend to use in another manner then, First take owner's permission. You can read the Instagram in-depth section regarding copyrights.
How to Download Instagram Photos.
Method 1: By using Chrome extension.
If you want to download Instagram Photos on your PC then this is the best method. By using Chrome extension you can download all photos with one click. Apart from photos, you can download Instagram videos, Which makes this extension very useful.
Step: 1 Go to this link and download InstaG Downloader by clicking on Add to Chrome option. By using this extension you can share, Download and can view the picture in full resolution.
Step: 2 After adding this extension on your Chrome web browser, Open Instagram website and Log in using your account details.
Step: 3 Now on every Instagram photos you"ll get three option View, Share Download. To Download Instagram photos just click on Download Button.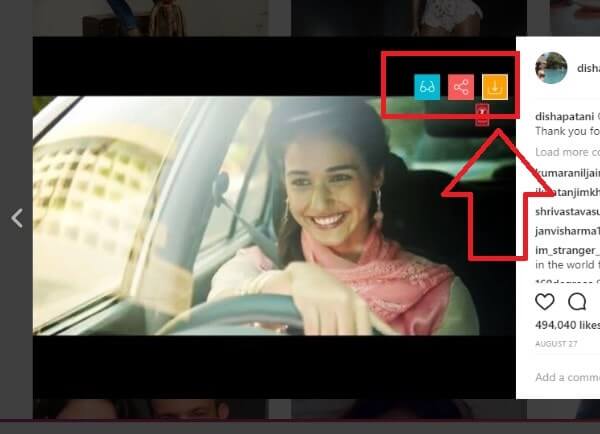 Download Photos into Google Drive – There is one more feature that this extension provides, Which is download Instagram photos to Google Drive. If you don't want to save on your local hard drive then tap on InstaG extension icon and choose Google Drive. Now next time whenever you"ll click on Download button it will save the photo to Google Drive, Make sure you have logged in Google Drive.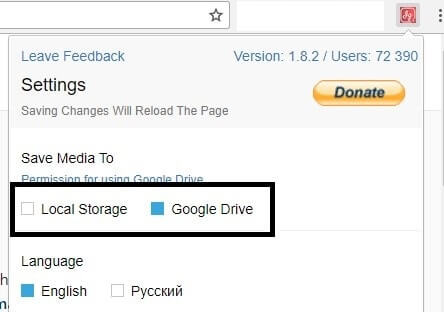 Download All Instagram Photos and Videos – If you don't want to download any specific photos and want to download all photos of any user. Then the open profile of that user and you"ll get Download Photos, Download Videos option.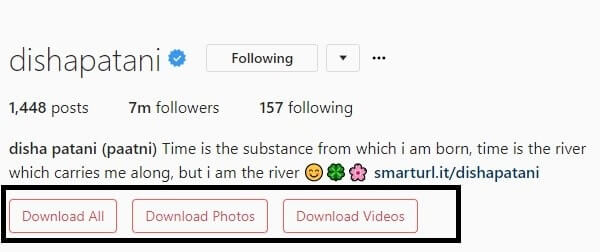 Click on Download Button and put file range and click on OK button. A zip file will start downloading in few minutes. You can use 7Zip File Extractor to unzip that file.
Method 2: DownloadGram – Instagram Photos and Videos Downloader.
If you don't have Chrome Web Browser or don't want to download any extension then you can use DownloadGram site. Download Instagram Videos and Photos with this site is very easy. Follow these steps to download any Instagram photo.
Step: 1 Open Instagram site on any Web Browser, and tap on the image to view full screen. Now copy URL of that image, Don't copy profile URL.
Step: 2 Visit DownloadGram site and then paste the URL that you copied, and hit the download button. Wait for few seconds and you"ll get Download Image option, Click on it and Image will start downloading.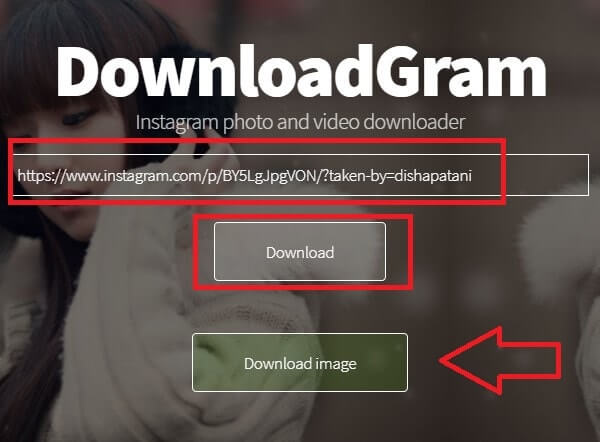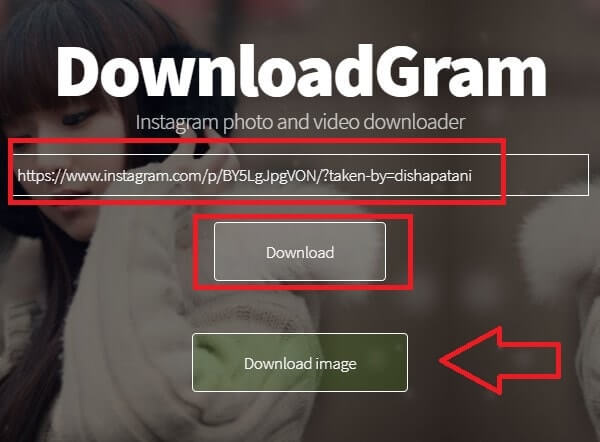 Although this online Instagram photo downloader doesn't allow to download in full resolution still it's good enough.
Method 3: 4K Stogram Software for Windows, Mac, and Linux.
4K Stogram is one of Best Instagram photos and videos download the program. It allows downloading all photos and videos of any Instagram user. You can download user Instagram photos without Login your Instagram account on software.
Step:1 Download 4K Stogram software on your computer and Install it.
Step: 2 Open any web browser and visit the Instagram site and copy URL of any Instagram user profile.
Step: 3 Now open 4K Stogram software and paste the URL and click on subscribe button.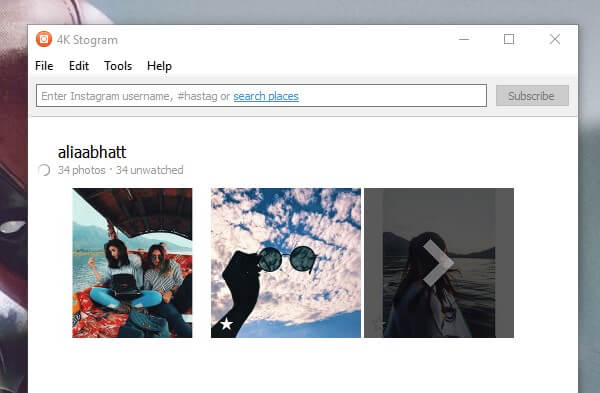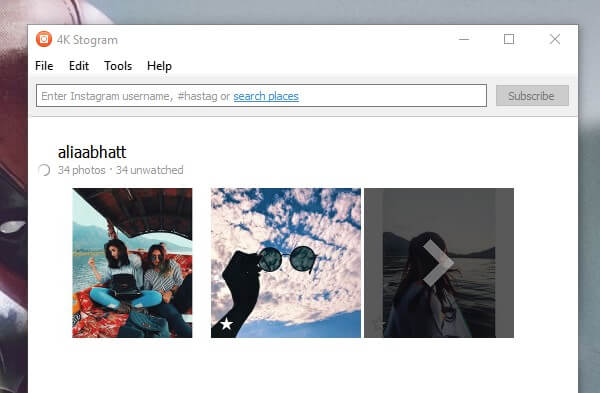 The software will automatically start downloading all photos. And if you want to stop downloading then Right-click on any photo and click on Remove. If you're unable to find out folder in which all images are downloading right click on the image and choose Show in Folder.
Method 4: Use FastSave App / InstaSave App.
There are dozens of Android App available on Google Play Store that allows to Download Instagram Photos. But the best and famous app is FastSave it allows downloading photos and videos with a single click.
Step 1: Download Fast save Android App on your device and open it. After that enable button to activate the app and then click on Open Instagram.
Step 2: On Instagram app tap on that image that you want to download and use menu (three dots) option and choose Copy Share URL option. Now check your gallery you"ll able to see downloaded photo in FastSave folder/Section.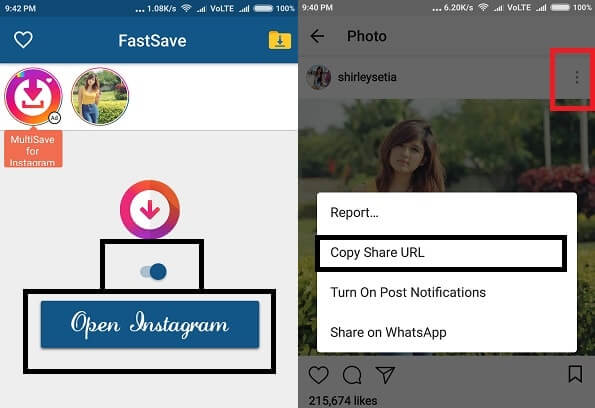 If you want to download multiple Instagram photos then you can try Multisave Android App.
For iOS user. – If you're using iPhone then you can download Instasave App from iTunes. This app work on the same concept so you can follow above steps to download Photos and Videos on iOS devices.
Method 5: Use Screen Capture Tool.
If Image quality isn't your concern and just want the photo to watch offline. Then you don't need to download any Software or extension, You can take the snapshot of the photo. On Android, you can capture screen by pressing volume down + power button. But if you're using the computer then you can try one of Best Screen Capture tool. And if you're windows user then you don't need to download any, You can use Snipping tool.
Conclusion.
So these are the four best working method to Download Instagram Pictures on Any device. If you are Android / iOS user then you can try FastSave or InstaSave App. And if your PC user then you can download 4K Stogram software, Because it allows downloading in full resolution. That's all folks if you know any other fastest method to download pics from Instagram feel free to comment.
Read Also: 8 Ways to Post to Instagram from PC.