Recently, One of my friends encountered a suspicious App on his notebook PC. And, this App was delaying shutdown process. So, In this article, I am going to talk about Elara App. And, I will also tell you how to get rid of from Elara Application. Some Windows users are claiming that, the problem started after Windows update. Though, the problem cause is something else.
What is Elara App?. Is it Malware or Virus?.
My friend was also thinking that it is some kinda Adware or malware. But, it is not. Because In every few months Windows release security updates. And, the latest version of Windows comes with Windows defender security center. Which is capable to fight against virus and threat. Although, It could be possible that you're using an old version of Windows. And, some adware program is acting like Elara App.
Now, still, you're thinking that, If it is not malware. Then, what this App doing in my laptop. According to Windows forum, Elara Application is associated with Apntext.exe file. This App or Program does control touchpad in Windows OS. You can find this App inside C:\Program Files\DellTPad. (Laptop of my friend is manufactured by Dell, that's why it is in dell folder.) Though, In my HP laptop, Synaptics controls touchpad driver.
Can I uninstall it?.
I don't suggest you uninstall Elara App. Because, As I mentioned it is not malware. It is a device driver, which controls touchpad. And, It could possible that you might face some functionality issue. If you uninstall it from your laptop. Though, it creates the problem only 2-3 times while shutting down Computer. But, Still, I suggest you try these solutions mentioned in this article.
FIX Elara App preventing Shutdown.
Update Windows OS.
Before start trying out some major solutions to fix this problem. I suggest you check for Windows updates. And, if you're still using an older version of Windows. Then, you should install the latest version of Windows 10. Because Elara App was creating many issues with Windows 8. But after Windows 10 updates, only a few users faced this problem. According to the official site of Microsoft, the latest version of Windows 10 is 1803(1). (At the time of writing this article.)
To check for updates in Windows 10, press Windows + I key to open settings App.
In settings App, click on "Update & Security".
Now, if there are any updates available. You"ll get "install now" option.
To check Windows 10 version, Click on "OS build info". (You can find this option in, "update & security Window > below "Related Links". ) As you can see in my Computer latest version 1803 is installed. So, I don't need to do anything.
But, If in your computer older version is installed. Then, you need to update your Windows. If you want to get rid of from this problem permanently. Then, I suggest you install Windows through bootable media.
Update Touchpad Driver.
If after updating Windows, still, you're experiencing issues with this App. Then, you need to install Touchpad driver. Because this App installed in your system to control Touchpad. And, if the driver is outdated or corrupted, then this App prevent the system to get shut down.
1. Open Device manager, Press Windows + R key. In the Run Window, type "devmgmt.msc" and press enter.
2. In device manager, go to "Mice and other pointing devices". Here you can find out TouchPad Driver.
3. Right click on it, then click on "Update Driver".
Or, If you want, you can uninstall Touchpad Driver first. But, after uninstalling your Touchpad might be unresponsive. So, don't try this unless you have USB mouse to control Computer. If device manager isn't able to update Driver. Then download Touchpad driver from your laptop manufacturer site. And, then you can install it manually.
Use Malwarebytes.
As I have mentioned, It could be possible that. You're dealing with malware, some malware can act up like Elara. So, I suggest you run a virus scan in your Computer, using Windows defender security center. Though, In some cases, windows defender might not able to find out malware. That's why you need to download Malwarebytes software.
Malwarebytes is an Anti Malware tool, And, it's free. The free version of Malwarebytes is capable to clean infected device.
Backup & RESET Windows.
If Elara App started creating problems suddenly. Then it could possible that you have made some changes. Though, I don't suggest you RESET Windows at first place. But, If above solutions aren't working. Then the only way to fix this problem is RESET Windows. But, If you have already installed Windows OS through bootable media. Then, you don't need to reset your Computer.
Note: Don't forget to create the backup of your important data before resetting Windows.
How to RESET Windows OS.
Press Windows + I to open Settings App in Windows 10. After that, go to Update & Security > Recovery > Get Started.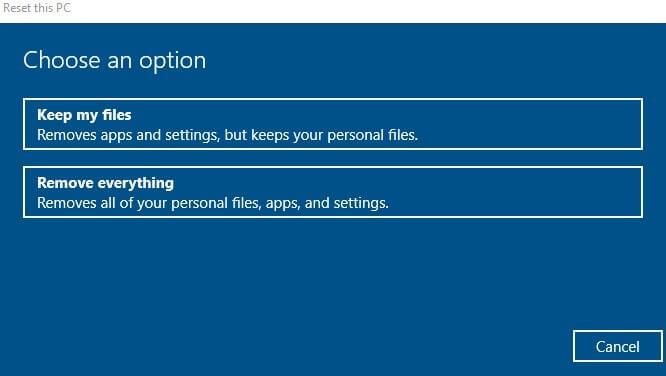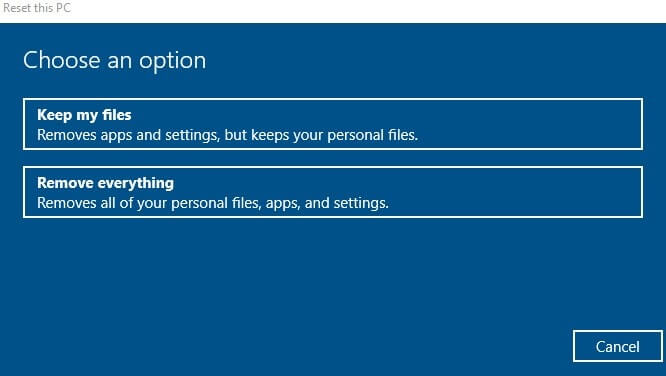 Now, A Window might open, with two options. Click on "Remove Everything" to get rid of from this problem. That's it. If after trying all above solutions, your problem remains same. Then, Feel free to comment. I will try to help you.